Off Grid Solar PV System Installation
With a minimum product warranty of 5 years, we power remotest of areas with the most reliable off grid solar PV systems. Offering complete solutions for residential, commercial, educational and hospital establishments across India.
What Is Off Grid Solar PV System?
Off grid solar PV system is a system that has no connection with the electricity grid and had a battery backup when solar panels don't produce any energy. Off grid solar PV system is for establishments that do not have access to grid electricity or have very long and frequent power cuts. These systems offer complete autonomy and independence from the electricity grid.
During the daytime the solar panels produce electricity, charge the batteries and supply electricity to your home. During the evening time, it uses battery bank to power your household load. An off grid solar PV system is generally used for lighting loads and low to medium power equipments. It is not recommended for motor loads and heavy machinery. Even though the cost of solar panels and inverters have reduced a lot during the last few years, batteries are generally quite expensive and need regular maintenance to get a good life out of it.
Off grid solar PV systems are designed as per your load requirements and the backup you need. At Free Spirits Green Labs,we have designed many off grid systems and have completed more than 100 kWp net capacity of off grid solar PV systems. We love off grid systems and would love to design one for your specific need.
Get answers to all your queries here-FAQ's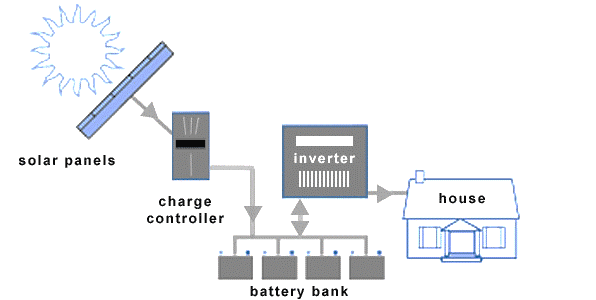 Get all Quality Components
Solar Panels
World class solar panels with highest efficiency. We use brands like Vikram, Waaree, Canadian Solar, GoldiGreen
Excellent module efficiency up to 15.6%
Higher PV energy yields even under low light and cloudy conditions
Warranty - 10 years product warranty @1% degradation each year. 25 years performance guarantee (90% up to 10 years, 75% up to 25 years)

Grid Tie Inverter
World class off grid solar inverters of Statcon, UTL, Consul Neowatt, Schneider etc. with IP65 protection
Low maintenance, long lifespan with seamless working
Fully automated system with switching.
Warranty - 5 years manufacturer warranty

Solar Gel Battery
Highest quality batteries of NED Energy, Hi-Power (Southern Batteries)
Maintenance free, no need of battery water replacement every few months
Great for deep discharge cycle applications
Spill proof
Warranty - 5 years manufacturer warranty

Maximising your Solar System Performance
We gather all the relevant information from all our installation sites and use it to remotely monitor and control our system to maximize the system performance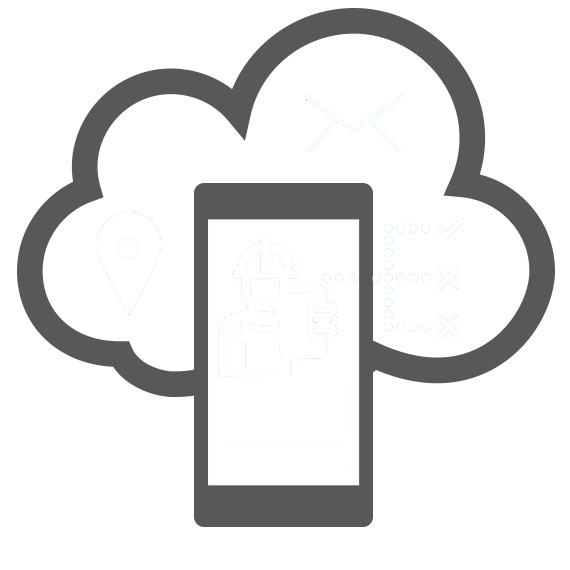 Real time diagnosis of maintenance issues Switch ON/OFF equipment remotely during energency Get Email/SMS Alerts for specific rules triggered Get regular performance reports on your phone
Get Expert Consultation for your Solar Installation
Contact: +91 9999298858
What are different types of Off Grid Solar PCUs?
Modified sine wave off grid inverters: They are cheap and the quality of electricity is not very good. They are suitable for lighting load only.
Pure sine wave off grid inverters: The quality of electricity is very good and they can power all types of household loads except the motor, AC etc. which are considered as heavy loads.
PWM inverters: PWM inverters are the one that try to operate the solar system at a fixed point. They do not care much about the efficiency and variations in the solar production.But they are cheap and very common in the market.
MPPT inverters: MPPT solar are the highest quality inverters available in the market. They are available in both grid tie and off grid solar PV systems. The efficiency can go up to 99.5% for getting maximum power out of the solar panel system.
What should I know about solar batteries?
Solar batteries are deep discharge tubular batteries made to provide you backup for long hours. There are two types of batteries:
Tubular lead-acid batteries: These batteries are more common and are used in almost all the off grid applications. They come with a general warranty of 3 years and can be extended to 5 years. But these batteries need regular maintenance and need to be filled with distilled water about every 3 months.
Gel based lead-acid batteries: These batteries are superior batteries as they are almost maintenance  free and do not need any water filling after every few months. But they are a bit costlier than the standard ones.
What will be the size of off grid solar system that I would need to install?
Lets take the following example:
Calculating total load and backup needed for the household
| | | | | | | |
| --- | --- | --- | --- | --- | --- | --- |
| Component | Number of Components | Power Rating (W) | Total Power Requirement (W) | Usage (in hours) | Backup (Days) | Energy Requirement (Wh) |
| DC Fans | 6 | 30 | 180 | 8 | 1.5 | 2160 |
| DC Lights (inside 4 rooms) | 4 | 20 | 80 | 8 | 1.5 | 960 |
| DC Lights (in the cooking area) | 2 | 20 | 40 | 5 | 1 | 200 |
| DC Light (outside the building) | 2 | 5 | 10 | 9 | 2 | 180 |
| Energy Consumption (Wh) | | | | | | 3500 |
| Losses | |  15% | | | | 525 |
| Total Energy Consumption (Wh) | | | | | | 4025 |
Calculating the size of the battery bank needed:
| | |
| --- | --- |
| Battery Requirements | |
| | |
| System Voltage (V) | 24 |
| Controller Losses | 12% |
| Total Ah Required | 187.8333333 |
| Battery Dischage Capacity | 50% |
| Battery Capacity (Ah) | 375.6666667 |
| Battery Numbers & Specifications | 2 x (12V, 200Ah) |
Calculating the size of solar panel array needed:
| | | |
| --- | --- | --- |
| Solar Panel Capacity | | |
| Power Requirement (W) | 4508 | |
| Availability of sun (hours) | 4.5 | |
| Solar Panel Capacity Required | 1001.777778 | ~ 1000 Watts |
Off grid Solar PCU size should be at least 1.25 time the solar panel size.
Have any questions?
we@freespirits.in
Call us on
+91-9999298858
Techical Support
+91-9999968769